Originally posted on ClimateSight:
Here in the northern mid-latitudes (much of Canada and the US, Europe, and the northern half of Asia) our weather is governed by the jet stream. This high-altitude wind current, flowing rapidly from west to east, separates cold Arctic air (to the north) from warmer temperate air (to the south). So on a given day, if you're north of the jet stream, the weather will probably be cold; if you're to the south, it will probably be warm; and if the jet stream is passing over you, you're likely to get rain or snow.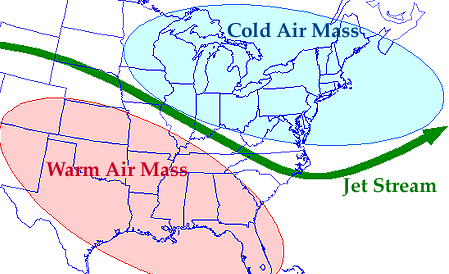 The jet stream isn't straight, though; it's rather wavy in the north-south direction, with peaks and troughs. So it's entirely possible for Calgary to experience a cold spell (sitting in a trough of the jet stream) while Winnipeg, almost directly to the east, has a heat wave (sitting in a peak). The farther north and south these peaks and troughs extend, the more extreme these temperature anomalies tend to be.